Best noise-cancelling headphones in 2020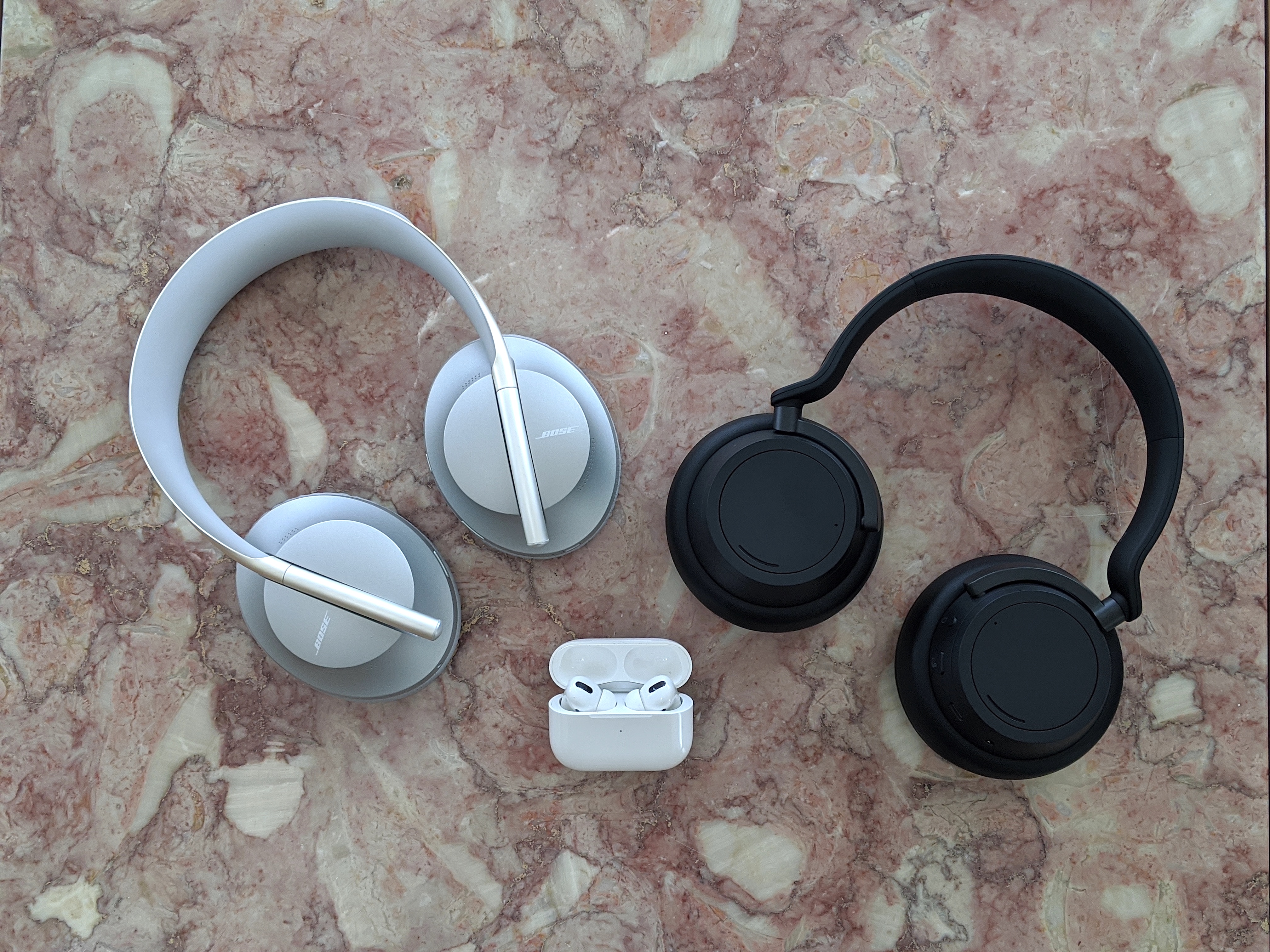 The best noise-cancelling headphones make it possible to hear our favorite songs, movies, and podcasts in peace and quiet. They are designed to block out the unwanted noise of planes, trains, and colleagues, while delivering unmatched audio, great comfort, and stable battery life. Some even come with smart features that enhance the listening experience on all devices.
Living in an obnoxiously loud world that makes it difficult to hear music the way it was meant to be heard – with sonic precision and free of distractions –is where active noise-cancelling headphones come to the rescue.
Since there are a lot of sound silencers out there, it's easy to pick a pair you'll regret spending money on because it either looked cool or was available at a super-cheap price on Amazon. Don't fall for it. We vetted several of the top brands to find the best options for you. This includes big names such as Bose, Sony, Sennheiser, and Beats, along with newcomers to the category like Apple, Jabra, and Microsoft.
If you're looking for some of the best noise-cancelling headphones to pair with your all-new iPhone or laptop, look no further. Let's get into our top picks.
What are the best noise cancelling headphones?
Right now, the Bose 700 Headphones are considered the No. 1 best noise-cancelling headphones. The company's latest model has set the new standard for noise neutralization on wireless headphones, featuring 10 levels of adjustable ANC and an eight-mic system that produces superior sound and call quality. These are also some of the coolest-looking headphones available with sleek aesthetics and touch controls to easily operate music playback.
Second place on our best noise-cancelling headphones list is the Apple AirPods Pro, true wireless earbuds with amazing iOS integration and surprisingly good noise cancellation. While not in the same ANC class as the Bose 700, Apple's Bluetooth danglers are well engineered to hush chatty neighbors and passing cars. Unique features like the Ear Tip Fit Test are beneficial for improving fit, sound, and isolation. Not to mention, Apple has some special audio updates in the works that will launch alongside iOS 14 this September.
Our third favorite model is the Sony WH-1000xM3, which is the best-sounding pair on this list and has remarkable ANC that nearly rivals Bose's technology. The extended battery life and special features via Sony Headphones Connect app make them an ideal Bose 700 alternative, but more so, an excellent option for music lovers who want to block out the ambient chaos around them. Those who want something similar, but in a tinier package, might want to look at the impressive WF-1000xM3 wireless earbuds, as they provide the best noise cancellation in the true wireless category and even better sound.
Another standout is the all-new Microsoft Surface Headphones 2, which offers unique functionality in the forms of adjustable ANC (11 levels to be exact) and productivity tools like voice dictation for Microsoft Office programs. We're also big fans of the Sennheiser Momentum True Wireless 2 for its exceptional sound and connectivity.
Laptop Magazine is keeping tabs on upcoming releases scheduled for the holiday season as well, including heavily-rumored models like the Sony WH-1000xM4 and Apple's first-ever over-ear headphones, the AirPods Studio.
There is something here for every type of listener. Here is our ranking of the best noise-cancelling headphones based on performance, style, and purpose.
The best noise cancelling headphones you can buy today
(Image credit: Laptop Magazine)
1. Bose 700
The best overall noise-cancelling headphones
Size and Weight: 8 x 6.5 x 2 inches, 8.8 ounces | Battery Life (Rated): 20 hours (NC on);40 hours (NC off) | Bluetooth Range: 30 feet (10 meters) | Digital Assistant Support: Yes
Slick, attractive design
Excellent noise cancellation on calls and music
Precise, balanced audio
Smart, intuitive buttons and touch controls
ANC can be used in wired mode
Expensive
Battery life is the same as older Bose headphones
New design? Check. Enhanced noise cancellation? Check. Stronger specs? Check. Special features? Check. Reasonably long battery life? Check. Great audio performance? Check. The Bose 700 makes the strongest argument for best noise-cancelling headphones by offering all of this and so much more. Granted, noise cancellation is where these wireless headphones really stand out. With 10 adjustable levels, these are, by far, the most powerful ANC headphones that Bose has made to date.
The technology not only works when you're listening to music or podcasts; the eight integrated mics ensure that the sound quality when you're making and receiving calls is just as good as when you're using only your smartphone. Bose also added easy-to-use touch controls and a slick companion app to set your default digital assistant (e.g. Alexa, Google Assistant, Siri) and cycle through ANC levels.
See our full Bose 700 review. 
(Image credit: Laptop Mag)
2. Apple AirPods Pro
Size and Weight: 2.4 x 1.7 x 0.9 inches, 8.8 ounces | Battery Life (Rated): 4.5 hours (NC on) | Bluetooth Range: 30 feet (10 meters) | Digital Assistant Support: Yes
Extremely comfortable
Seamless pairing
Clear, balanced sound
Decent noise cancellation
IPX4 sweat resistance
Battery life could be better
Pricey
No one thought Apple was capable of creating a solid pair of noise-cancelling wireless earbuds. Well, they proved the haters wrong, creating the absolute best mobile accessory for iOS/macOS devices: the AirPods Pro. The new sweat-proof design looks better and fits more securely in your ear, sound quality has been slightly improved, and the highlight feature — active noise cancellation — effectively reduces ambient sounds (just don't expect a miracle). We're also fans of the new force sensors on the stems, which uses pinch gestures to execute commands and is more responsive than the tap control scheme employed on previous AirPods models.
Add everything we loved about the original AirPods — excellent call quality, seamless pairing, a strong Bluetooth connection, and supreme comfort — and we have no reservations naming the AirPods Pros the best wireless earbuds available today. 
See our full AirPods Pro review. 
(Image credit: Regan Coule/Tom's Guide)
3. Sony WH-1000XM3
Excellent sound paired with great noise cancelling
Size and Weight: 10.4 x 7.3 x 2.9 inches, 9 ounces | Battery Life (Rated): 30 hours (NC on);38 hours (NC off) | Bluetooth Range: 30ft. (10 meters) | Digital Assistant Support: Yes
Class-leading sonics
Surprisingly good noise cancellation
Responsive touch controls
Extensive battery life
Sleek and slender design
Cheaper feel
Mediocre call quality Read our full
Audiophiles who like dynamic noise cancellation and sound quality need these cans on their heads. Sony rebuilt its Mark 3 headphones from the ground up, incorporating the all-new HD Noise Cancelling Processor QN1, which enhances audio processing and ANC performance. What you get is natural, well-balanced sound with the company's signature bass profile leading the auditory charge. You can expect thunderous lows that will rattle your skull. You can even go into the companion app and tailor sound to your hearing by messing around with the built-in EQ or by selecting one of several presets that work very well for their respective music genres.
The noise cancellation is just as impressive, muffling most high-frequency noises without compromising the overall sound. Steady battery life with quick-charging and adjustable EQ and ANC settings round out the WH-1000xM3's superior hallmarks. 
See our full Sony WH-1000XM3 review.
(Image credit: Regan Coule/Laptop Magazine)
4. Microsoft Surface Headphones
Productivity headphones with strong sound and ANC
Size and Weight: 8 x 7.68 x 1.89 inches, 10.2 ounces | Battery Life (Rated): 15 hours (NC On) | Bluetooth Range: 35 ft. (10.6 meters) | Digital Assistant Support: Yes
13 levels of active noise cancellation
Spacious sound
Microsoft 365 integration
Excellent connectivity
User-friendly controls
Audio lacks clarity at times
Battery life could be better
The first-gen Surface Headphones were a notable debut for Microsoft, and its follow-up is even better, welcoming a handful of upgrades and launching at a cheaper price than the original. One can't discuss the Surface Headphones 2 without mentioning the all-new Matte Black colorway: it's incredibly attractive. Sound and noise cancellation practically remain untouched, rewarding your ears with deep sonics and interruption-free listening, thanks to Microsoft's powerful eight-mic system that helps filter out 75% of ambient noise. 
Being able to adjust the ANC and volume levels via dial controls is awesome too. Where these headphones really shine are in the productivity features, such as voice dictation with Microsoft 365 to verbally jot down notes in Office programs (e.g. Word, PowerPoint, Outlook) and multipoint technology, which lets you connect to 10 devices simultaneously.
Battery life is decent, but Microsoft could have given us more to work with, especially since all of these features drain power quickly.
See our full Microsoft Surface Headphones 2 review.
(Image credit: Laptop Mag)
5. Beats Solo Pro Headphones
More balanced audio, now with noise cancelling
Size and Weight: 7 inches (height), 9.4 ounces | Battery Life (Rated): 22 hours (NC on), 40 hours (NC off) | Bluetooth Range: 30 feet (10 meters) | Digital Assistant Support: Yes
Very good audio quality
Effective noise cancellation
Super-simple pairing
Iconic Beats design
Fun color options
No 3.5mm headphone jack
Tight clamping force
Beats headphones get a bad rap for being more style than substance. While the company's original noise-cancellers, the Studio 3, was a solid pair of sound blasters, they didn't exactly live up to their promise as a potential category leader. The Solo Pro certainly changes that argument. This sleek pair of on-ears pumps out refined, balanced sound and features effective noise cancellation and a nifty transparency mode that filters in more ambient sound so you can be aware of your surroundings. You get a decent amount of battery life to work with at 22 hours, but Beats' Fast Fuel technology helps speed up the recharging process when necessary, generating 3 hours of playtime on a 10-minute charge.
Apple also brings its H1 chip to the Solo Pro, which enables seamless pairing and a fun audio-sharing feature for when you want to listen with friends who also own pair of Beats headphones or AirPods.
See our full Beats Solo Pro review. 
(Image credit: Laptop Mag)
6. Sennheiser Momentum True Wireless 2
Size and Weight: 3.02 x 1.72 x 1.3 inches, 0.2 ounces (per bud) | Battery Life (Rated): 7 hours, 28 hours (with charging case) | Bluetooth Range: 800 feet (243 meters) | Digital Assistant Support: Yes
Smaller, sophisticated design
Sennheiser sound
Long battery life
Strong active noise cancelling
More expensive than the AirPods Pro
Protruding shape makes for an unstable fit
If you want an AirPods Pro alternative with much better sound and noise cancellation that's just as good, then the Sennheiser Momentum True Wireless 2 might be for you. The earbuds are kitted with 7mm custom drivers that deliver rich, well-balanced audio; you'll enjoy deep bass and natural mids no matter the music genre. The increase in the battery life is a bonus, nearly doubling the playtime of the original version. We're also smitten over the chic gray fabric charging case that holds an extra 21 hours. ANC impresses, minimizing ambient noise well enough to phase out distractions and maintain its superb audio quality. The technology also lends itself well to phone calls, making for loud and clear-sounding conversations.
Now, let's discuss the elephant in the room: pricing. Yes, $300 is a lot to ask for, especially with the AirPods Pro 2 listed at $50 less. However, keep in mind you're paying extra for Sennheiser sound and more playtime.
See our full Sennheiser Momentum True Wireless 2 review.
7. Bose QuietComfort 35 II
Size and Weight: 7.1 x 6.7 x 3.2 inches, 8.2 ounces | Battery Life (Rated): 20 hours (NC on), 40 hours (NC off) | Bluetooth Range: 30 feet (10 meters) | Digital Assistant Support: Yes
Top-tier noise cancellation
Crisp, full audio
Alexa and Google Assistant support
Strong connectivity
ANC works in wired mode
Subpar digital assistant integration
Unchanged design Read our full
The QC35 II sat atop of the ANC throne for quite some time, introducing noise cancellation that was unmatched when launched. With its more upscale sibling, the 700, coming into the picture, it's easy to overlook this last-gen model, but you would be foolishly passing up an amazing offer. Currently listed at $209.99 on Amazon, the QC35 II is still a go-to for listeners who want to eliminate the mundane drones around them at an elite level.
Bose uses a set of microphones and proprietary algorithms to clear the QC35 II's soundscape of unwanted noises across different frequencies. Buzzing vehicle engines and baby cries don't stand a chance. The QC35 II's profile accentuates bass, but also keeps mids and highs sounding crisp no matter the song. Best of all, the ANC feature works in both wireless and wired modes. Bose programmed the headphones with Google and Alexa integration as well to execute daily tasks via voice commands.
See our full Bose QuietComfort 35 II review.
(Image credit: Regan Coule/Tom's Guide)
8. Sony WF-1000XM3
Powerful noise cancellation in a small, sleek package
Size and Weight: 7.8 x 5 x 2.4 inches, 1.6 ounces | Battery Life (Rated): 16 hours (NC on) | Bluetooth Range: None | Digital Assistant Support: Yes
Stellar audio performance
Great noise cancellation
Tons of personalization via companion app
Excellent battery life across the board
Luxe, sharp-looking design
Touch controls could use some work
Poor call quality
We never thought superb noise cancellation was possible on a pair of wireless earbuds, but the Sony WF-1000xM3 is a true wireless triumph. These elongated in-ear monitors successfully combine stellar sonics with impressive ANC that is resiliently effective in filtering out various street noises, from rushing taxis to truck horns. A plethora of features via mobile app and solid battery life also elevate its status among the elite. Deep, rich bass and tonal balance also give the WF-1000xM3 an edge over the competition. And if the recent rumors of aptX HD support are true, then we could be looking at the best-sounding buds on the block.
As great as the WF-1000xM3 sound, there is room for improvement. Sony could have done a better job with the call quality and touch controls, which aren't the most responsive (using slide gestures actually works better).
See our full Sony WF-1000XM3 review. 
9. Sennheiser HD 4.50 BTNC
Good performance for an affordable price
Size and Weight: 10.2 x 7.1 x 3.9 inches, 8.4 ounces | Battery Life (Rated): 19 hours (NC on);25 hours (NC off) | Bluetooth Range: 30ft. (10 meters) | Digital Assistant Support: Yes
Neutral sound
Easy-to-use controls
Significantly less costly than other models
Decent battery life
Noise cancellation affects audio
No hard-shell travel case
A mid-range pair of headphones with superior sonics and solid noise cancellation might seem unrealistic to some, but the Sennheiser HD 4.50 BTNC is an exception to the rule. There is much to admire here besides its affordability, including a relaxed fit, simple controls, and clean, tight sound. Battery life isn't too bad either for a model that has been on the market over three years. And what's not to love about the luxe design, which is highlighted by a matte-black finish with accented chrome?
Sennheiser's NoiseGard technology doesn't match Bose's or Sony's ANC power, but it can silence outdoor rackets and up to 70% of airplane rumble. If it weren't for the faint hiss in the background when enabling ANC and lack of premium travel case, the HD 4.50 BTNC would be deserving of higher placement on our list.
 See our full Sennheiser HD 4.50 BTNC review. 
10. Jabra Elite 85h
Lots of features and long battery life
Size and Weight: 7.6 x 8.8 x 3.2 inches, 10.4 ounces | Battery Life (Rated): 36 hours (NC On); 40 hours (NC Off) | Bluetooth Range: 33 feet (10 meters) | Digital Assistant Support: Yes
Best-in-class battery life
Intelligible ANC and controls
Remarkable sound reproduction
Personalized sound via mobile app
Tri-digital assistant support
Bulky and heavy design
Distorted bass in listening modes Read our full
You want to talk versatility? The Jabra Elite 85 has a standout feature for every possible use. Let's start with 35 hours of noise-cancelling performance and wireless listening. Jabra programmed these headphones with physical and touch controls, along with on-ear detection gesture and voice command access to the big three: Alexa, Siri and Google Assistant. Smart Active Noise Cancellation adapts to environments to reduce high amounts of ambient noise. The Jabra Sound+ app optimizes sound using a customizable EQ and special calling options. Lastly, the ear cups have a nano-coating to protect the internals from water damage.
On the downside, these are some hefty suckers to carry around and listening to music in Ambient Mode distorts the low end. Besides these two flaws, the Elite 85h is a compelling purchase for feature mongers. Act now and you can snag the headphones for as low as $199.99 on Amazon (Gold Beige only), an absolute steal.
See our full Jabra Elite 85h review.
How to choose the best noise-cancelling headphones for you
The best noise-cancelling headphones often come at a premium, so you'll want to make sure you're getting top-notch noise neutralization for your dollar. Seek out models that advertise active noise cancellation (not to be confused with passive noise cancellation). The difference is ANC uses microphones to pick up incoming ambient sounds and creates inverse waves that cancel them out in real-time, while PNC physically isolates these sounds through the headphone design.
Audio should be your second priority. Clearly, you want headphones that sound great when indulging in your music collection and jumping on Zoom calls. See if you can find headphones with powerful drivers, along with special features like adaptive sound (e.g. AirPods Pro) and customization settings to tweak the sound profile to your liking.
Next on the checklist is battery life. The standard playtime for ANC headphones is about 20 to 25 hours, though some manufacturers have launched models that can generate up to 35 hours or more. There are even some headphones that let you use ANC in wired mode (e.g. Bose 700).
Design plays a pivotal role as well, especially if you're someone who spends a majority of their time on the road. Ideally, you want headphones that are lightweight and portable, and come with some sort of travel case to easily store them. They should also feel comfortable and provide a stable fit.
Connectivity should not be overlooked either. While Bluetooth 5.0 is the best way to go for fast and strong wireless performance, you may find certain models with less powerful Bluetooth protocols (e.g. Bluetooth 4.1/4.2) that can still operate reliably.
How we test the best noise-cancelling headphones
Laptop Magazine takes several factors into consideration when putting together our list of the best noise-cancelling headphones. This includes design, comfort, sound, and overall value. We also compare each model to similar ones in the noise-cancelling category in terms of features, fit, and pricing.
Noise-cancelling headphones are worn over the course of a week for 2 to 3 hours at a time. We assess how accurate and powerful the noise cancellation is by testing these headphones in both indoor and outdoor environments where ambient sounds are produced at high levels. In addition, our reviewers listen to songs across multiple music genres (e.g. classical, hip-hop, jazz) to analyze audio quality, along with clarity, depth, and volume. Furthermore, we test these models on streaming music services that offer hi-res audio.
Lastly, we test battery life, digital assistant support, ease of setup, wireless range, and any app-enabled features compatible with mobile devices, laptops, desktops, and gaming consoles.
After testing is completed, our reviewers rate each model on a five-point system (1 = worst, 5 = best). Any product considered truly exemplary is awarded a Laptop Magazine Editor's Choice badge.